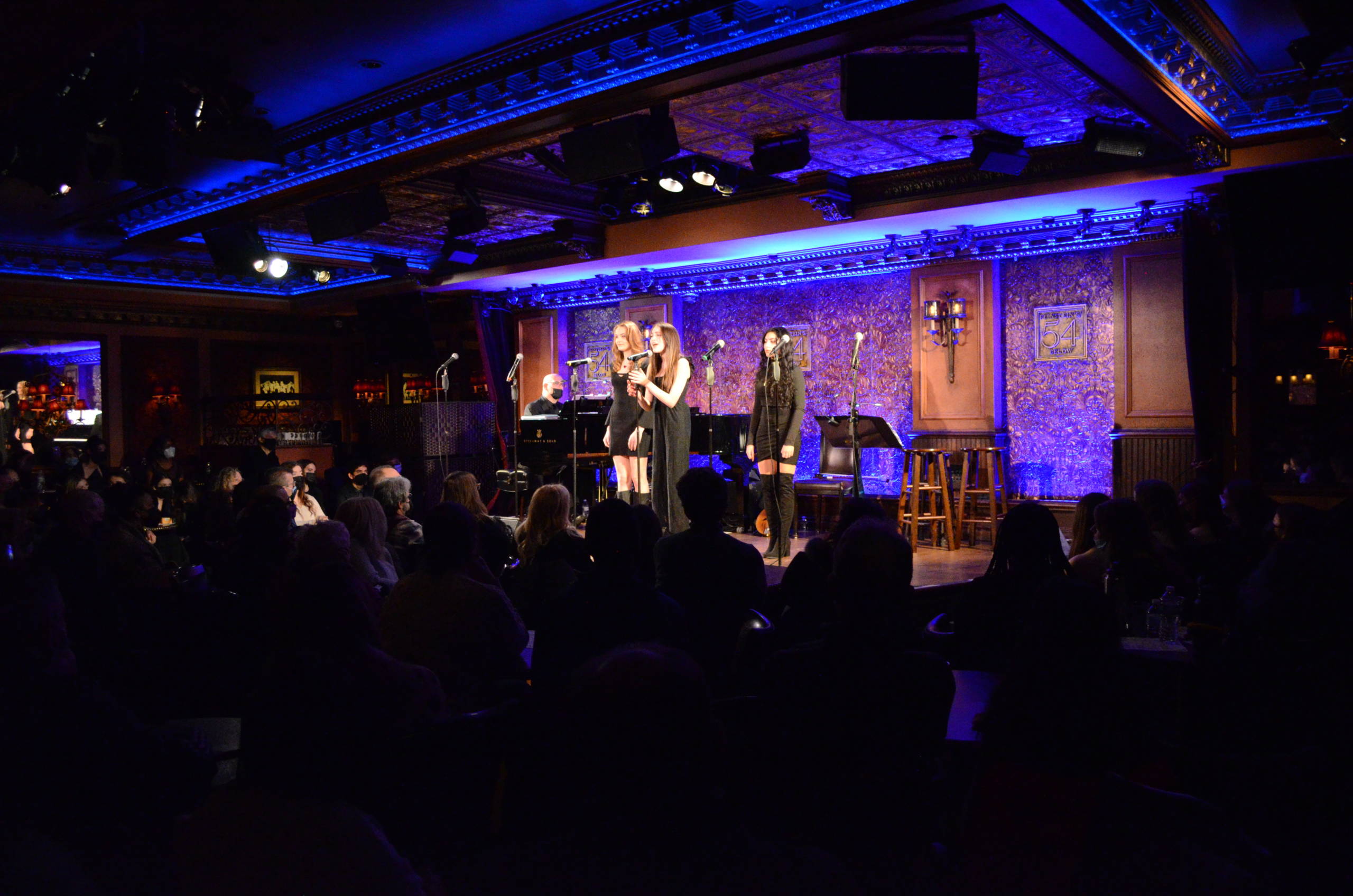 LIHSA Cabaret at 54 Below
On Saturday, January 22nd, LIHSA students took to the stage at the legendary 54 Below Cabaret Club in Manhattan to put on their own show…
What attendees witnessed was nothing short of extraordinary!
 Dressed to the nines with soaring voices and exuding professional-level confidence and captivating stage presence, they took the audience on a ride through musical history with timeless songs that touched every emotion and brought everyone to their feet for a rousing standing ovation.
Congratulations to every student and teacher involved in this unforgettable performance.
Enjoy this photographic journey…
---
Long Island High School for the Arts
CABARET
Saturday, January 22, 2022
at 54 Below, NYC
Directed by Dr. Dale Stuckenbruck and Ms. Kimberly Larkin
Musical Direction by Mr. Francis Lees
Kimberly Larkin's AM Class
New World
Ensemble
Ready to Be Loved
Jessica Nuñez & Sophia Nocera
Can't I Just Be
Megan Bush, Antonio Urrutia & Devin Eichel
Whatever I Want it to Be
Isabella Coles & Erin Gerasimovich
Unworthy of Your Love
Moore Theobald & Ava Lithgow
My Own Best Friend
Gretchen Murphy & Tali Goldwasser
Dr. Dale Stuckenbruck's AM Class
In His Eyes
Kayla Kiefer & Lauren Marchand
I Hear a Symphony/Ain't No Mountain
Bella Tiripicchio, Mallory Hartmann & Paige Harley
Hear My Song
Ensemble
Dr. Dale Stuckenbruck's PM Class
It Only Took a Kiss
Danielle Lopez & Dr. Stuckenbruck
Let Me Be Your Star
Leah Romero & Kaitlin Ackerly
I Say a Little Prayer
Elif Daspinar & Alyssa Riche
I'll Be Seeing You
Vincent Arenella & Dr. Stuckenbruck
What I Did For Love
Ensemble
Kimberly Larkin's PM Class
Stepsister's Lament
Aaliyah Precil & Leah Verschell
You Love Who You Love
Melissa Fearrington & Hope McQuiston
Rumor Has It/Someone Like You
Mia Mirabile & Brooke Viceconte
Andrew Lloyd Webber Love Trio
Gia Cellucci, Leah Kelly & Zoe Cali-Manko
Happy Days/Get Happy
Gioianna DiGiorgio & Madelyn Quigley
Flight
Sarah DeMarco & Erin Stanley
Thank You/You Learn
Ensemble