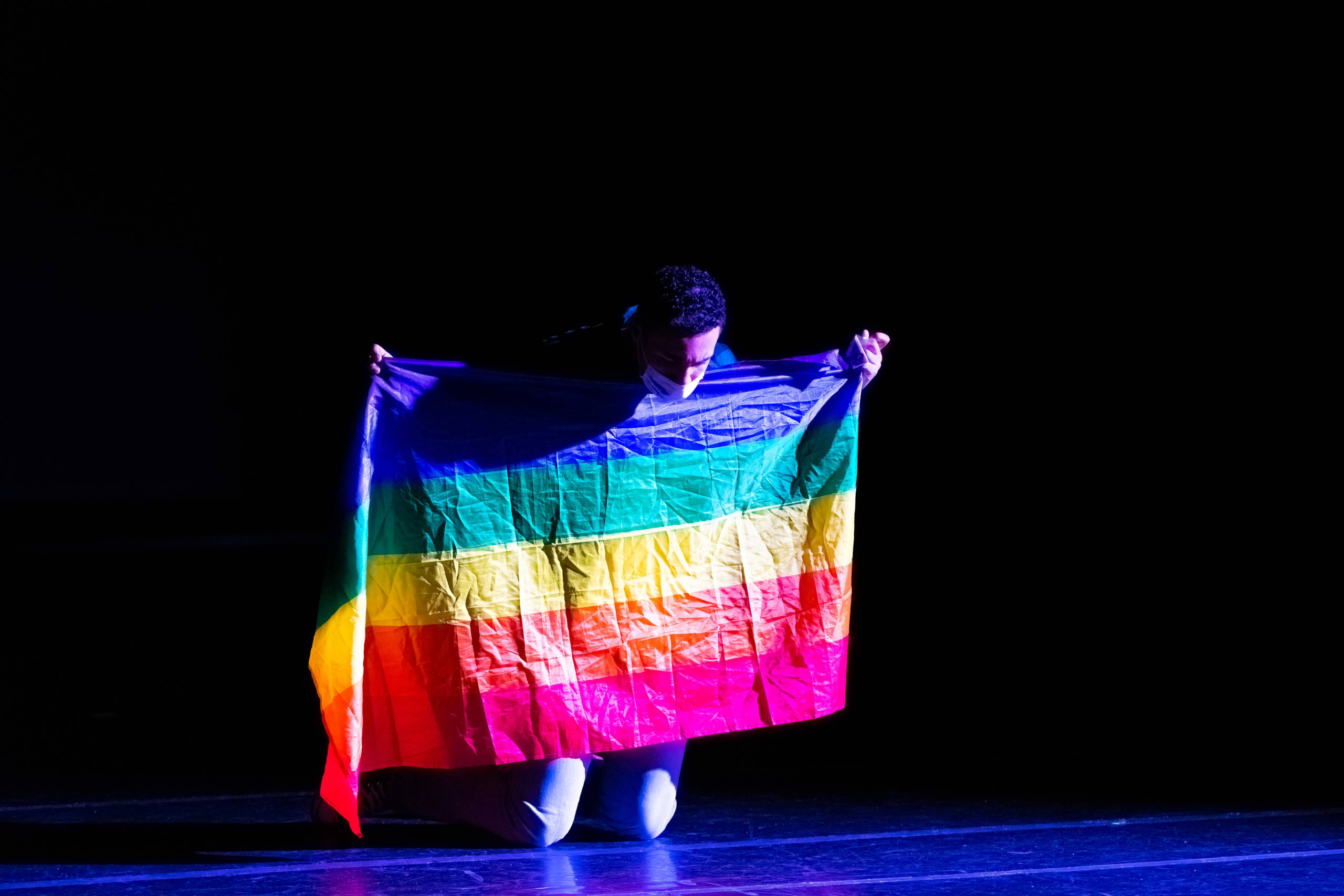 A LIHSA Student SPEAKS OUT Against Homophobia
"SPEAK OUT"
With National Coming Out Day on October 11th, LIHSA is reinforcing our desire to be a safe space for our students, and a place that encourages young artists to develop and thrive.
This freedom of expression allowed "Speak Out" to come to life…
LIHSA students explored the intersection of performance, politics, and social transformation by studying and experiencing the work of activist artists in both traditional and non-traditional forms from across the globe. Students then created improvisational work drawing from what had been studied. The class culminated in the creation of an original activist performance. "Speak Out" was one of four pieces selected for for the Spring Festival.
We spoke with LIHSA Student Amani Rodriguez, who wrote and performed this piece about his inspiration, emotions and future plans.
How much time did you spend conceptualizing and planning for this performance?
When I was first given the assignment, it took me two weeks before I was able to decide on a topic for my project. Then after I chose my topic it took another week before I was able to think of a way to do it. Then eventually I decided I was going to make this project a mix of a film and a dance. Originally, the project was going to be about my life but after thinking about it for a few days I realized that what mattered more to me was getting the stories of other people out there. Thankfully, people were eager to get their stories out there and so getting all of the interviews only took one night! And then that next morning my project was finished. One week later it was chosen for the spring festival and I started working on bringing it to the stage!
What did you hope to get out of presenting this on stage?
When presenting this on stage, I wanted members of the LGBTQ+ community to see that a lot of us are going through similar issues and that they're not alone. I also hoped that people who are against the community would see that we're not that different from everyone else. We're people too.
What feelings did you have after presenting this piece for the first time?
After presenting this piece I felt very anxious. Although my sexuality is not a secret, putting myself out there was something I've never done before and I was nervous about how everyone would react to it. However, I was very proud of myself. I knew this piece was the right thing to do and I knew it was something that had to be shared. So, even though it was a very nerve wracking experience it was a necessary one.
What is the message you want "Speak Out" to send to other students who are feeling cast out or marginalized?
The message I want "Speak Out" to send is that so many people from the community face similar issues at school, at home, everywhere. And I want people to realize that coming out is a very difficult thing to do. And it is okay to do it at your own pace. But just know that there is a huge loving community ready to welcome everyone with open arms and that they have your back.
Post-LIHSA plans?
Post-LIHSA, I plan to go to college and major in education. I plan to be a teacher and hopefully become someone that is able to inspire students to be their best selves like my teachers have done for me. I plan to become someone that my students are able to talk to and someone that can make a positive change.
"Speak Out"
Credits: Written & Performed by Amani Rodriguez
Direction by James Crichton
Lighting Design by Andrew Defrin
Mentor: Chris Brick
Lighting Mentor: Hayley Kasper
This performance was filmed at the LIHSA Spring Festival in 2021.