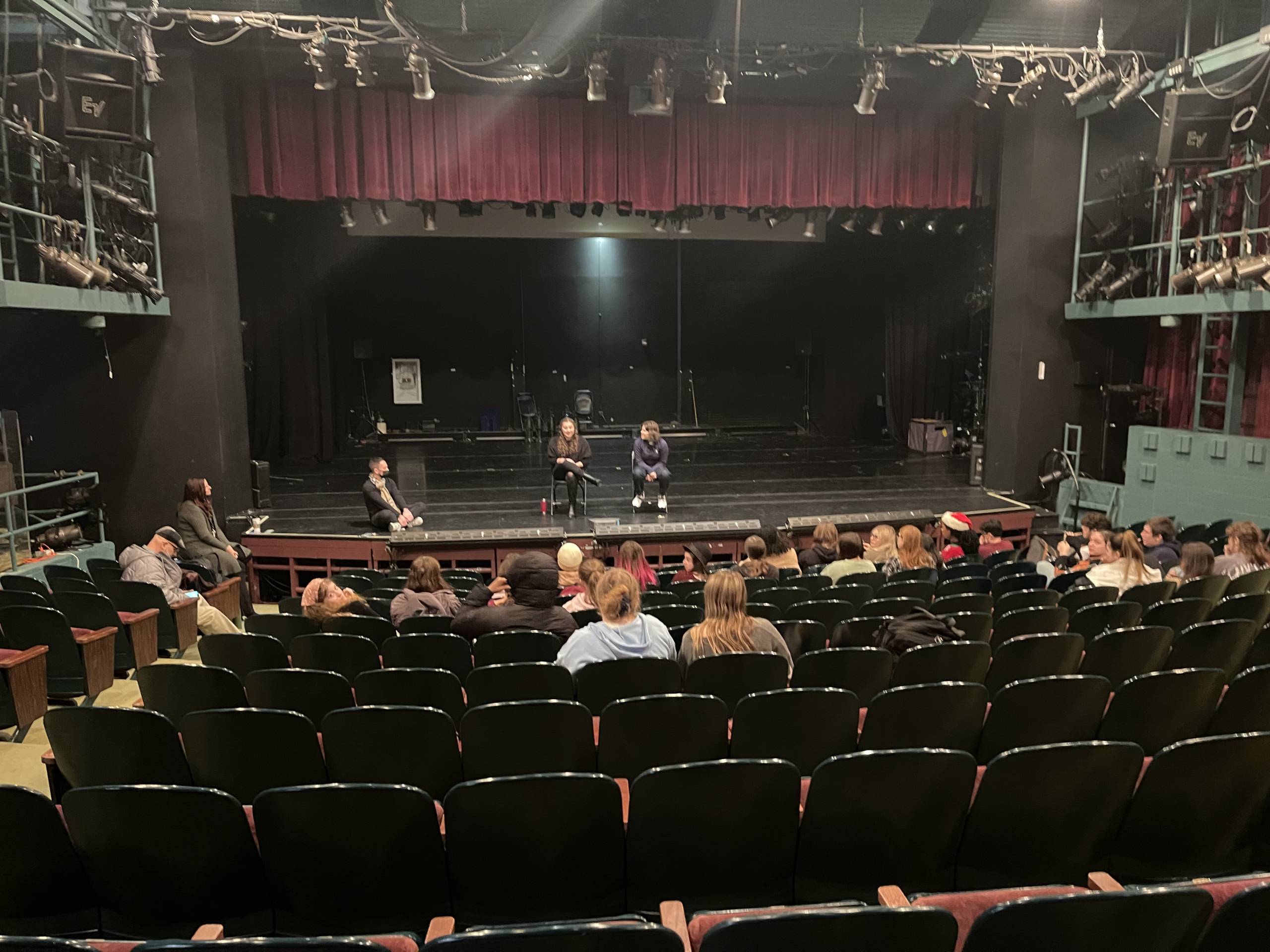 LIHSA Alumni Return for Alumni Day 2022!
On December 22, 2022 more than 50 LIHSA Alumni returned to their alma mater to share college and career advice, give feedback on student performances and portfolios, and greet each other. It was a fun and festive day, full of multi-class, multi-discipline, multi-generational creative energy.
Alum Derrick Barker returned to LIHSA. He studied instrumental music in high school, playing the Vibraphone, and is currently a music teacher at Turtle Hook Middle School in Uniondale School District. Derrick shared, "It was good to see how LIHSA has developed since my graduation. It shows a forward-thinking community of educators who are genuinely invested in the educational experience of their scholars. I did make some new connections and would like to keep in touch. I had an opportunity to speak to a former student of mine who currently attends LIHSA, however, the students in my home district of Uniondale would benefit immensely from seeing a program like LIHSA, and BOCES as a whole.  Many of my students have never seen a school where the curriculum is specialized for students who are entering a particular career field.  LIHSA changed my life, as I never believed I could go to college.  I credit my successes to the faculty that believed in me and showed me how to open doors I never knew existed."
Shannon Carlson graduated in 2020 and studied Special Effects and Technical Theater at LIHSA. She is now a senior at Savannah College of Art and Design majoring in Production Design, and works at the scenic shop as a carpenter and painter. Shannon reflected, "LIHSA prepared me for a lot of my classes at the start of my college career. I felt ahead in my lighting class and my intro to production design class because of the classes at LIHSA. I was happy to come back for alumni day. I was able to see some people I haven't seen in a long time, especially since my senior year got cut short. I told the current students about my experiences in the industry so far and some tips and tricks I know now that I learned along the way."
Dancer Heather Conn graduated LIHSA in 2010 and earned a BFA in dance from the Tisch School of the Arts at New York University. After graduating, she began my career as a professional dancer performing across the United States and around the world, in various forms including contemporary dance, musical theater, and live production art. She's currently dancing with the internationally acclaimed dance company MOMIX in the original cast of their newest show Alice. Heather has returned often through the years, assisting her alma mater any way she could from raising money, increasing awareness, and offering master classes. She offered, "LIHSA was an integral part of my education. The school and all of the wonderful people there helped shape who I am as an artist, and even more importantly as a human. I wouldn't be who I am without it. LIHSA is part of me everywhere I go and in everything I do. It is always a joy to come back to LIHSA. It is like a home to me. It was so nice to feel welcomed back there. I loved reconnecting with other alumni and faculty, as well as spending time with current students. LIHSA cultivates family, and it's so meaningful to keep that alive with events like this.  Meeting the current dance students was so special to me. I loved watching them dance and work, and talking to them. I especially loved getting to dance with them later when we took class together! I am excited to continue working with the students at LIHSA!"
Thank you to all our alum who returned…we can't wait to see you again soon!
Scroll for more photos of Alumni Day!
Enjoy more photos from Alumni Day on December 22, 2022