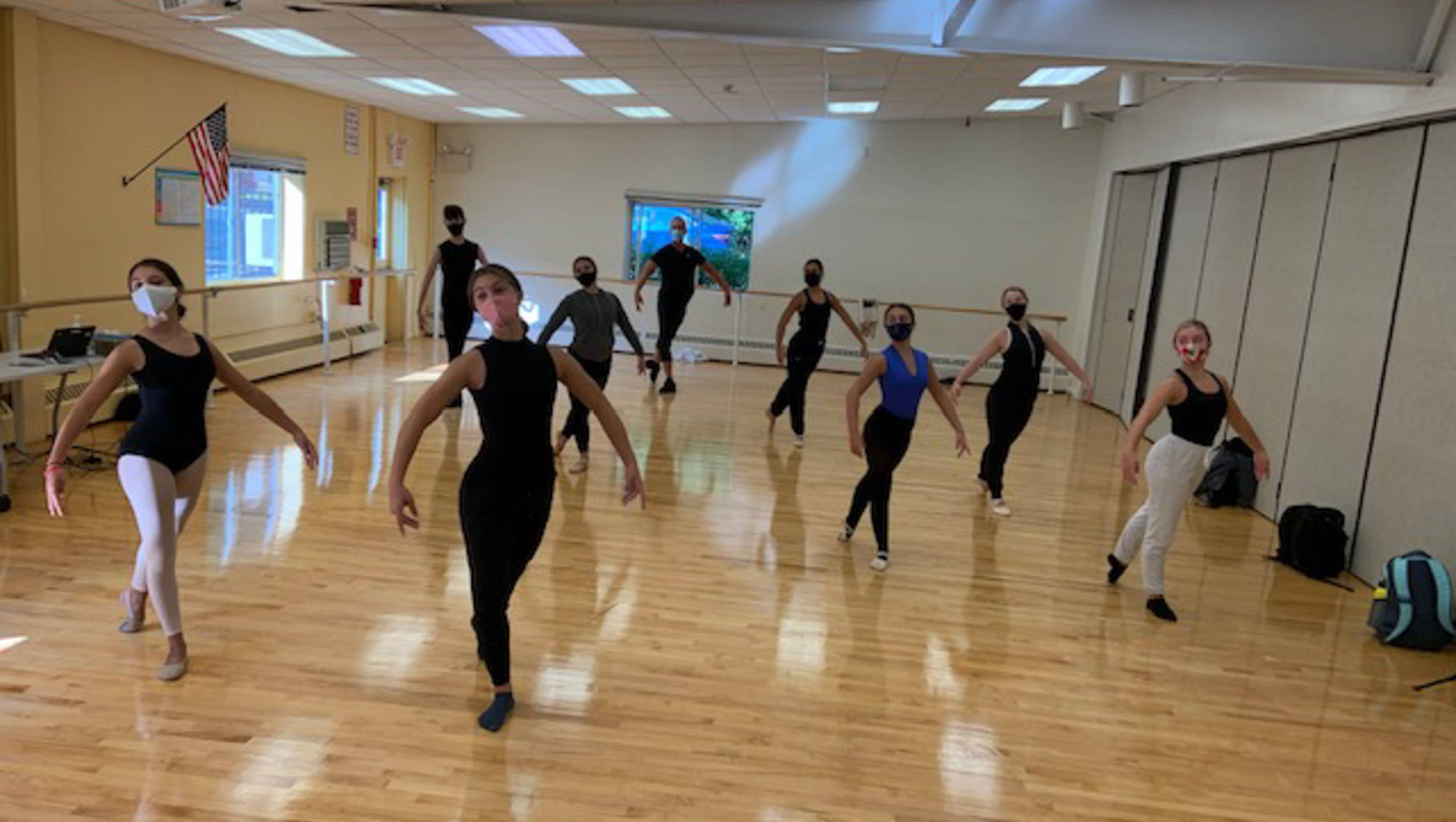 Visiting Artist Spotlight: American Ballet Theatre
LIHSA is thrilled to be in our third year of our partnership with American Ballet Theatre, America's National Ballet Company.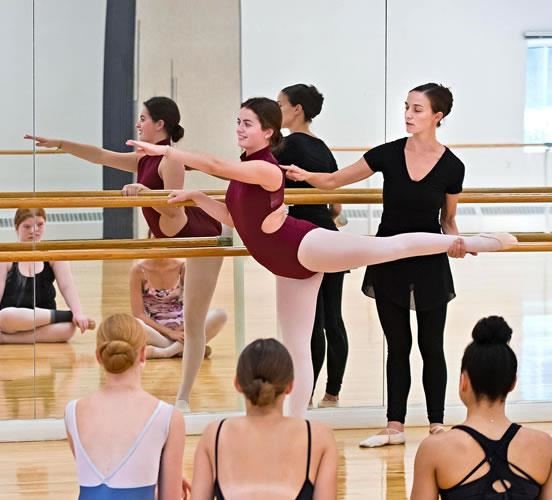 Every week for the entire school year, our students get the opportunity to learn from two of ABT's incredible teaching artists, Wendy Clark and Stephen Campanella.
We sat down with Wendy, Stephen and ABT Artistic Manager of Engagement Richard Toda to talk about their experience, inspiration, favorite songs to dance to and much more.
Teacher who inspired you
W: I had a really strong teacher that inspired me. They focused on the whole person, talking about support your dancing in terms of your whole lifestyle, including diet. That thought process made me much more well-rounded in all aspects of life.
An effective teacher can transfer that knowledge to the students in a way that's accessible to them, show them how to interpret while adding their own flair.

-Richard Toda
Choosing dance education as a career
W: I have always loved expressing myself through dance. I found that teaching allowed me to help others find the same joy in dance and movement. It's especially a thrill working with young children who are just discovering their talents.
S: In my case, I was lucky. A lot of dancers have abrupt transitions where due to age or injury they're done with their career. Over the past several years I have gradually been transitioning from performing to teaching and changing my focus from performance to passing the knowledge on to others.
It's hard to discipline yourself to work correctly, but over the long-term working correctly is the is the surest route to building a safe and certain technique.
Traits of a dancer
W: You have to be very organized be a dancer because even during practice, there's a certain approach to going to the bar. You have a checklist, and as you start the bar, you go through your checklist and ask yourself certain questions to make sure you're fully prepared.
ABT offers multiple entry points into the world of classical ballet through artist residencies, including technique, character dance and historical knowledge.  It's important to us that students feel like they're a part of the legacy that American Ballet Theater has created over the past 81 years.

-Richard Toda
Teaching dance during Covid
S: I taught virtually from March through June of 2020 and my apartment at the time was extremely small so you couldn't actually see my full body so I had to get creative, but made it work.
W: I do have a house, but I also a toddler and two cats, so all of my students got to meet my toddler and cats at some point in time. It's definitely a challenge trying to teach over zoom and having cats attack your feet when you do Pointes moves!
S: Learning virtually was different for every student. I had one student who thrived with the virtual classes. When she finally came back into this studio was a completely different dancer. She found it motivating and was inspired to figure things out and found outside resources to make it work.
Tips for applying for college BFA dance programs
W: Sometimes students forget that it's not just about your technical skill level, which is important, of course, but also like as an auditioner, they're often watching to see if you can pick up patterns and corrections, adapt to changes and pick up choreography quickly.  It's also important to show that you work with others.
S: When looking at a college dance program, I think it's the same as looking at any college program. You need to make sure it offers programs that fit your interests and goals.  You have to make sure that you know what the strengths of that program are, what it has to offer. Not going on name or reputation alone.
I feel like it's the biggest struggle that students have because we want to fix everything now and we want a solution now and you really have to have the patience to fight for it every day and to push for it every day without seeing the results every day.
Other dance-adjacent career options
W: Obviously teaching. Also dance nutritionist, choreography or directing. I have seen some students go into dance administration. I have a student who works for San Francisco Ballet in the administrative department, so some students wind up in that direction.  Sometimes they veer into different forms of movement that they can teach including Pilates or Gyrotonics.
S: I've seen students take the skills that they learned as dancers, including time management, discipline, focus, commitment and apply those to other careers. I actually have quite a few students who studied to be doctors or physical therapists.  That makes sense because of not only the discipline, but you have to know a lot about anatomy and about how the body works as a dancer.
LIHSA gives students the unique opportunity to do cross discipline work and with the CTE, they're getting this experience in high school was very much like my freshman year of college (at Syracuse University), where I first realized that we all speak the same language here.
What occupies your time when you're not teaching?
W: I have a toddler so my toddler occupies most of my time, but I do enjoy going to the ballet and Broadway shows.
S: I love theater and reading, but also don't have too much free time lately. I completed the Professional award in Benesh movement notation, a system developed in the 1940s to document dance and other types of human movement.
Bucket list Ballet Companies
W: Because we live in New York City, we get to see many of the companies from around the world, but it's really special to see a company performing in their home theatre.  I would love to see the Australian Ballet in the Sydney Opera House and though I've seen many of the Russian companies, I've never been to Russia, so I would really love to go and see them perform in their home theaters. I I feel like the history of that would be amazing.
Favorite music to dance to
S: Two of my recent favorite performances were both Chopin piano works.
W: I have a particular fondness for Mozart and I have a passion for narrative ballets. I enjoy portraying an emotion or character, as opposed to ballet that's a little bit more abstract, because then I can feel a stronger sense to the connection to the music.
Getting into character
S: Gustav Mahler's Kindertotenlieder was a phenomenal experience. I wasn't on until the third song, so to get into character I would sit backstage and just let the music wash over me. By the time the third song rolled around, I was depressed enough to go out there and perform that ballet!
W: I create stories, even if it's not a specific character like narrative ballet, I always have a story and my personal thought to help me to express the emotion through my dance.
Tips for working through difficulties
W: My teacher used to always say that you have to find a different point of entry.  If a student struggling, my job is to help them to approach it from a different way. If they start to overanalyze, then they're going to think "I can't do this". But once you break it down and explain what it is, they can assess the situation and find a different way to approach it.
S: A surprisingly powerful tool that we usually forget to use is just to leave it. If something is not working and you just do it over and over again, it's like bashing your head into the wall. It's still not working.  Sometimes you just need to step away for a day or longer and then come back to it with an open mind.
Partnering with schools and local organizations, ABT provides an array of accessible opportunities to experience world-class repertory and artistry. Aligned with our mission to bring the magic of ballet to the widest audience possible, programs are designed to introduce the classical repertoire and a proficiency in movement vocabulary.