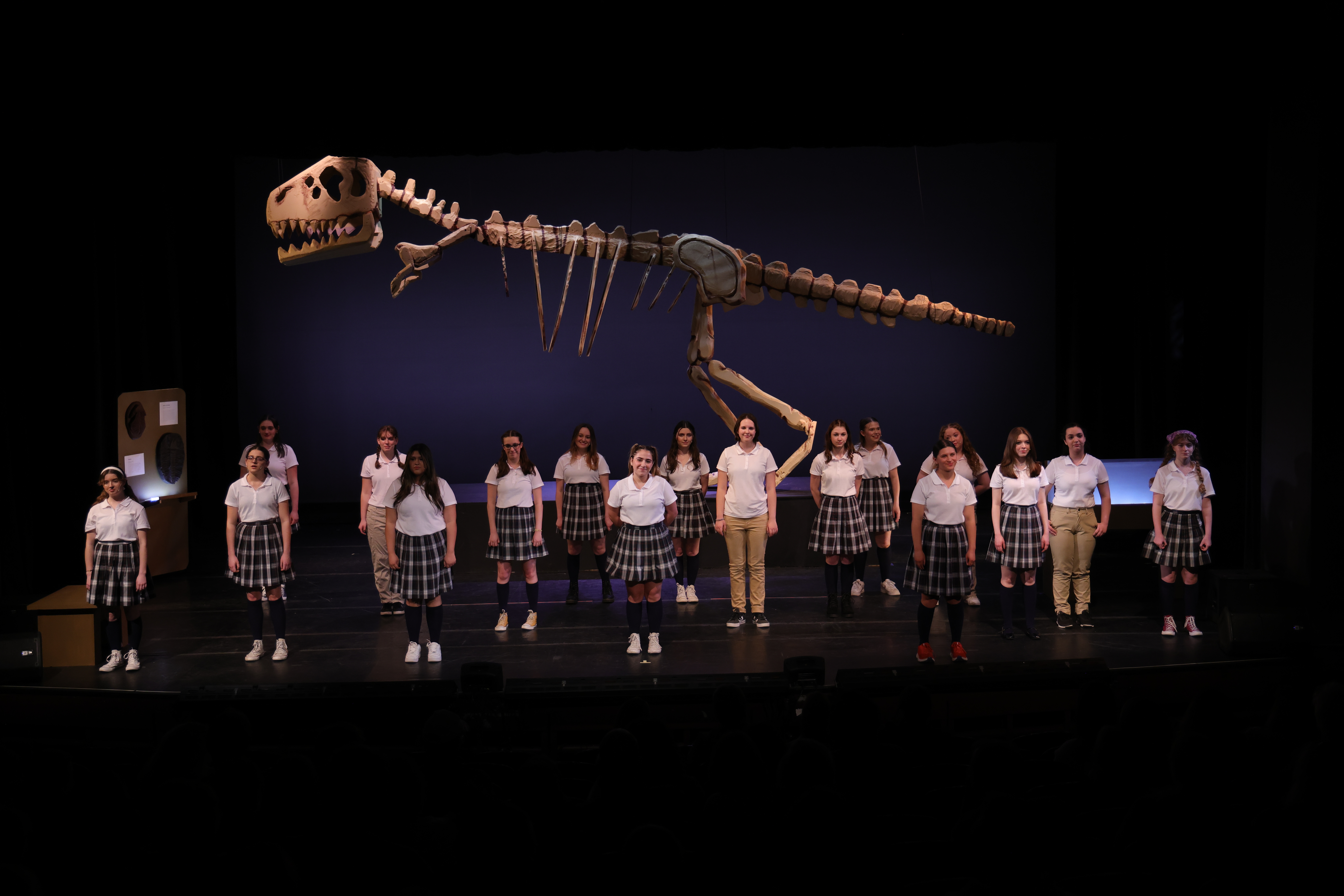 A Recap: Now. Here. This.
On May 9 and 10, 2023, audiences at LIHSA were transported to the American Museum of Natural History during the production of Now. Here. This.  Under the direction of Chris Brick and Kim Larkin, students performed this musical revue centering around the Thomas Merton's idea of being full present in the "Now" and "Here" and accepting "This," even when the moment is not what you imaged it to be.
Students in the Musical Revue class worked with Francis Lees, musical director, on sequences that flashed back into each character's past and explored the odds of human existence. All of this was filled with upbeat choreography and unforgettable performances.
Rory Gallo of West Hempstead studies Music at LIHSA. In the production she sings the song "Members Only." Her favorite moment was "when we first came out and heard the audience respond positively to the show. It's not a familiar show so we were happy the audience laughed at the jokes and enjoyed the show."
Julia Tsouros of Bethpage studies Musical Theater and her big number in the show was "Golden Palace." Her character was the daughter of immigrants and her song reflects on the opportunities she has thanks to the sacrifices her dad made. Julia's favorite song is "More Life" because "everyone sings together. It was wonderful to have a song to sing together before we graduate."
Gigi Augugliaro from Bethpage studies Musical Theater. She had her own song in the show called "Kick Me" about the pressures of changing who you are to fit in.  She was grateful that the show allowed her to "get to do what I love with my friends one last time before we graduate."
Lyla Karekinian of Carle Place also studies Musical Theater. She shares, "The biggest lesson that this production taught me is that collaboration is truly amazing.  Working with these wonderful cast mates was such a valuable time for me. Collaboration with the musical directors taught me that they believed in me. They taught me things I didn't know but it was also so spectacular that they let me work freely." She also shared that she loved the moments shared backstage, "All the hugs and the support and the love that went on backstage made everything incredibly worth it. It was such an amazing experience for me."