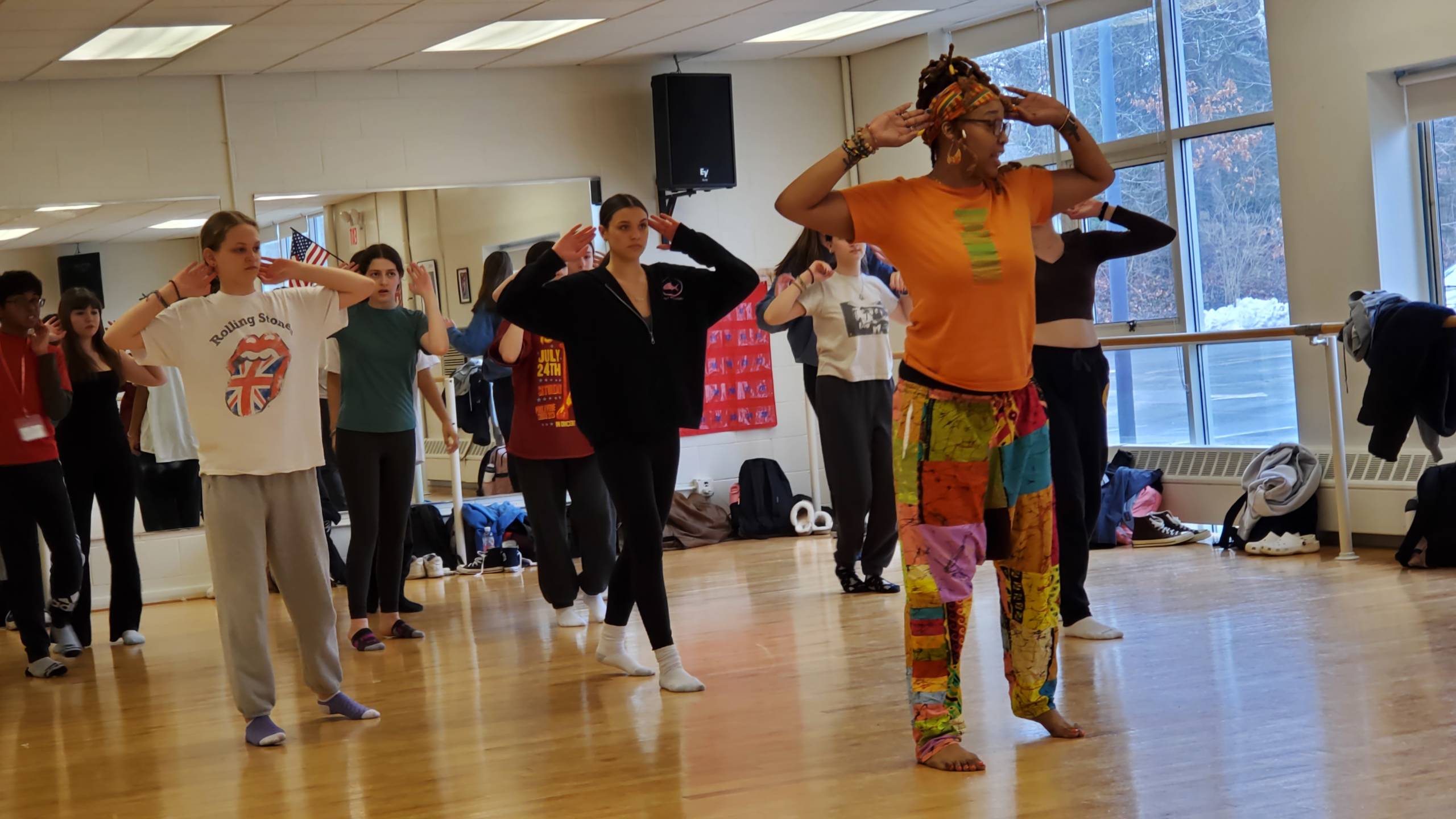 In the Classroom with Rhythmic Exploration
Rhythmic Exploration students have been enjoying a rotation of artists celebrating four unique cultures through the use of instruments and movement. Capoeira NYC, Flynn Irish Dance, Urban Bush Women, and Alan Asuncion (of Off-Broadway's Stomp) are working with a combination of Music, Dance and Theatre majors in incredibly distinct styles as they demonstrate what makes the Brazilian, Irish, West African and Cuban cultures exciting and fun. The six-week residencies help young performers investigate the relationship between percussion instruments and the body as an instrument in order to effectively communicate across disciplines and express their artistic potential. Students are earning Work-Based Learning hours (a requirement for their CTE endorsement), through working with these exciting master artists!
"I really like how we get to explore different cultures and their customs," says Xaire Romero, a music student. "I really enjoyed working with Dani from Urban Bush Women because her personality is fun and she interacted with us in a way that got through to us. I have a background in dance, so getting to dance again but within a different culture and context reminded me about why I love to dance."
"I am so glad I got to play new instruments and dance because I haven't done it in a while," says Kendall Mathew, a music student. "Maybe I will take dance classes now! I especially loved Capoeira because it has types of moves that had gymnastics and cartwheels. I also really enjoyed working with Alan because I liked making instruments out of plastic bags and with my hands. The Irish dancing was a lot of fun too because of the many swings and how fast it was."
Romero recognizes the importance of the master artists' expertise. "Working with professionals is so important because it means that they know more about the culture, where they come from, and they're connected to it," she says. "Working with them is helping me prepare for working in the entertainment industry."
Mathews agrees with this sentiment. "If I want to perform in the industry, I should learn a bunch of different things. As a singer, this helps me to be more well-rounded and perform with more flexibility. This experience affords me more opportunities."
"The fact that LIHSA has this class is so interesting and I really like it!" says OIivia Flaherty, a theatre student. "I like that we have the opportunity to do something outside of our majors." Flaherty says that she enjoys the fact that the classes allow her to be open to trying new things. "I've always been singing, dancing and acting, but this is helping me get outside my comfort zone and will help me in the long run."
"Working with real professionals helps us realize there are different avenues we can go into for a career," says Talya Ewing, a theatre student. "These styles consist of music, communication, community, etc. There is so much involved. For example, having a professional from Stomp showed us there was an entire show made out of music with everyday items! There are so many possibilities!"
Scroll for more photos.