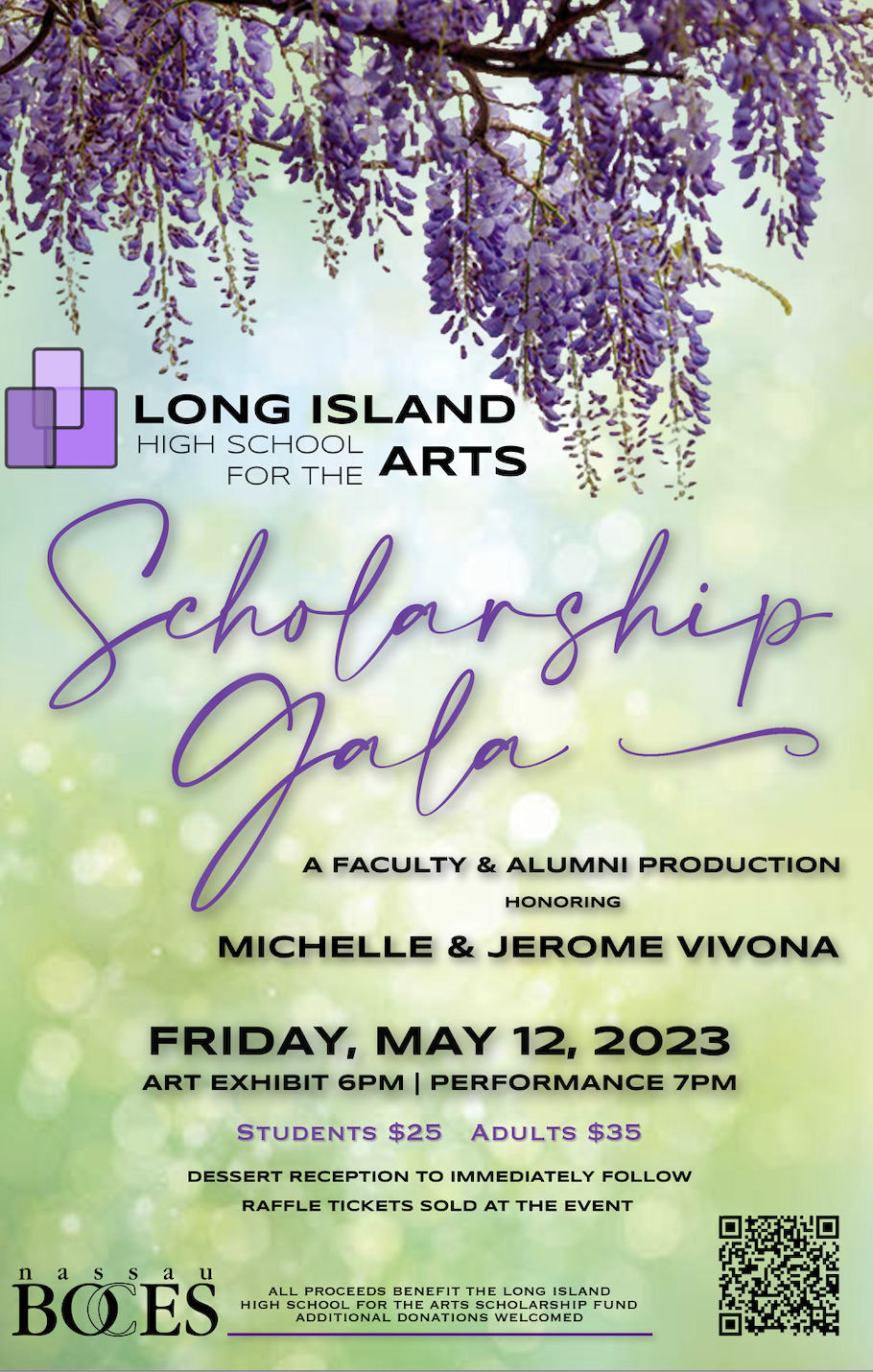 LIHSA Scholarship Gala Program May 2023
ACT 1 
"SOMEONE TO WATCH OVER ME"
Music by George Gershwin
Lyrics by Ira Gershwin & Howard Dietz
Performed by Kimberly Larkin (Faculty), Francis
Lees (Faculty),Alex Vietheer (Faculty), &
Jerry Nobile (Faculty)
"SOMEONE LIKE YOU"
from Do I Hear A Waltz
Music by Richard Rodgers
Lyrics by Stephen Soundheim
Accompanist: Francis Lees
Performed by Vincent Ricciardi ('00)
"EVERYTHING I KNOW"
from In The Heights
Music and Lyrics by Lin Manuel Miranda
Accompanist: Francis Lees
Performed by Jaida Skye Rivera ('18)
"42nd STREET"
from 42nd Street
Music by Harry Warren
Lyrics by Al Dubin & Johnny Mercer
Choreography & Performance by Kaitlyn Harold ('20)
"JOURNEY TO THE PAST"
Music by Stephen Flaherty
Lyrics by Lynn Ahrens
Performed by Shaakirah "Yasmina" ('20)
"WHO'S GOT THE PAIN"
from Damn Yankees
Original Choreography by Bob Fosse & Gwen Verdon
Performed by L'aura Bagdziunas ( Alumna & Faculty), Chris Brick (Faculty)
"FORGIVEN"
from Jagged Little Pill
Songwriters Glen Ballard & Alanis Morissette
Accompanist:Francis Lees
Performed by Elora von Rosch ('09)
"ROCOCO"
Composer Claude Bolling
Performed by Leigh Skye Rynecki('10), Al Marino('10),
Eddie Matthews ('11), Francis Lees (Faculty),
Jerry Nobile (Faculty)
"ACT I FINALE"
Accompanist: Francis Lees
Performed by Special Guests
ACT 2 
"BUSINESS DECISIONS"
"Work It" by  Marie Davidson
Choreography and Performance by  Elias Alfau ('16)
"SHE LOVES ME"
from She Loves Me
Music by Jerry Bock
Lyrics by Sheldon Harnick
Accompanist: Francis Lees
  Performed by Terrence Bryce Sheldon ('20)
 "IN HIS EYES"
from Jekyll & Hyde
Music by Frank Wildhorn
Lyrics by Leslie Bricusse
Accompanist: Francis Lees
Performed by Kimberly Larkin (Faculty)
& Elora von Rosch ('09)
"YOU OR ME?"
"Wrench and Numbers" by Jeff Russo
Choreography & Performance: Adianna Valentine ('19)
"WHO AM I TO YOU"
Written and Performed by Lindsay Whiteman
(LIHSA Artist In Residency)
 "I CAN DO BETTER"
from The Last Five Years
Music by Jason Robert Brown
Lyrics by Leslie Bricusse
Performed by Megan Bush ('22)
"FRIENDS"
"Friends" by Emmit Fenn
Choreography and Performance by Heather Conn ('10), Nathaniel Davis (Guest Artist)
PRODUCTION CREW
Gala Coordinator and Artistic Director:
L'aura Bagdziunas
Production Coordinators:
L'aura Bagdziunas & Jerry Nobile
Stage Managers: Erik Chocianowski & Chris Brick
Lighting: Juliette Kealy
Sound: Doug Rowand
Café Set Design, Decorations: Erik Chocianowski
Assistant Stage Manager: Annalise Taylor ('23)
Running Crew:
Abigail Colfer ('24), Addison Moore ('24)
WHO'S WHO: ALUMNI/FRIENDS
ELIAS ALFAU is a New York based dance artist. Originally from Long Island, Elias received his training from the Long Island High School for the Arts & the Eglevsky Ballet. Elias was also involved in the dance convention/competition circuit dancing under the studio MB Dancers. Elias received his BFA in dance at The University of the Arts under the direction of Donna Faye-Burchfield and graduated Magna Cum Laude. During his time, he trained with Kim Bears-Bailey, Tommie Waheed-Evans, Mark Caserta, Jesse Zaritt, Michael Sheridan, Jason Vu, and Elisa Clark. Elias had the opportunity to perform in works by Sidra Bell, Doug Varone, Symone Holliday, Juel D. Lane, Jenn Nugent, and Thom Kitt. In November 2021, Elias presented a work titled, "Fusible Future(s)" which was then invited to perform in Koresh Dance Company's artist showcase. Most recently, Elias was part of the company "JUNK" for the Philly Fringe Festival. Currently, Elias is an assistant to Theresa Stone, and Neil Schwartz. His credits include The Rolling Stones Flesh & Steel Festival, Synthicide NYC, and many more!  
MEGAN BUSH just finished her first year as a Musical Theatre major at Ithaca College where she understudied Little Red in Into The Woods and performed in a concert version of The Hunchback of Notre Dame. In 2022, she was named a Long Island Scholar Artist in the Area of Theatre. Megan received a LIHSA Scholarship when she graduated and is so excited to be performing for this Gala.
HEATHER CONN  attended the Long Island High School for the Arts as a dance major and upon graduating was awarded the "Seymour Weiner Scholarship" for outstanding achievement in performing arts. She holds a BFA in dance from the Tisch School of the Arts at New York University. Heather has performed professionally across the United States and beyond, in contemporary dance, musical theater, film, and live production art. She has performed in such notable venues as Radio City Music Hall, the Kennedy Center, the Apollo Theater, Jacob's Pillow, the Joyce Theater and on stages throughout the world. Heather is currently dancing with the internationally acclaimed dance company MOMIX, performing in the original cast of their show Alice. Heather is featured in the published photography book Dance Across the USA by Jonathan Givens, as a dancer representing the state of New York. She is a certified Yoga teacher, a certified Animal Flow® instructor, and an Essential Oil Specialist. Heather has immense gratitude for LIHSA and would not be who nor where she is today without it. 
NATHANIEL DAVIS was born in Toronto, Canada and started his training at the age of seventeen.  He attended the New World School of the Arts college graduating cum laude in 2015 with a BFA in dance. He has previously worked with the Peter London Dance Company in Miami, Florida and Artichoke Dance Company in Brooklyn, New York. He has performed works by Robert Battle, Daniel Ulbricht, George Balanchine, Jose Limon, Kyle Abraham, Bill T. Jones, and Darshan Bueller. Nathaniel joined MOMIX in 2016. 
KATELYN HAROLD is a musical theatre performer based in New York City and Long Island. From a young age, she knew she wanted to spend the rest of her life on the stage as a performer. She started performing in her school's productions and developed her craft at the Long Island High School for the Arts ('20) as a major in Musical Theatre. She studies BFA Musical Theatre with a minor in Arts Management at Marymount Manhattan College as a current junior. The past few years, she has trained rigorously in the areas of dance, voice, and acting all while making The Big Apple her best friend! Previous credits include A Chorus Line (Bebe), Beauty and the Beast (Silly Girl), The Drowsy Chaperone, and Something Rotten! Outside of her performance career, she loves getting a good workout in, discovering new neighborhoods and places to eat, and spending time with her friends and family! 
AL MARINO holds a bachelor degree in music performance from LIU POST. He studied both classical and jazz guitar under the instruction of professors Harris Becker and Richard Iacona. He currently studies with Michael Ricchiuti (pianist/arranger for Patti Austin). Mr. Marino has performed at various jazz venues on Long Island and Manhattan including but not limited ot the Lenox Lounge, Treme, Zinc Bar, and The Garage Care. He teaches guitar, piano and violin at MM Music in Massapequa. Mr. Marino has had the pleasure of working and performing with many gifted musicians and continues to learn.  
EDWARD MATTHEWS is a proud LIHSA alumni and a freelance Bass Player that has participated in many diverse music events around the country. 
VINCENT RICCIARDI possesses a warm, lyrical, Italianate tenor voice which has allowed him to jump between opera and musical theater throughout his career.  As a concert artist he has performed throughout the Northeast often with his wife Emily as the duo Elegant & Vintage Entertainment; specializing in Broadway, Neapolitan song, Opera, Operetta, as well as classical cross-over repertoire by Mario Lanza, Andrea Bocelli, and Sergio Franchi. He has been seen at Carnegie Hall, headlining Italian festivals, local concert series, and more. Vincent is also an accomplished session vocalist.  His voice can be heard in movies, television, and on international albums. 
JAIDA SKYE RIVERA is a LIHSA musical theatre alum and is very excited to be back on the stage here at her alma mater! Since graduation she has been merging her love for theater and television and pursuing both professionally, as an actress and a production member! Thank you LIHSA for having me back to celebrate tonight! 
LEIGH RYNECKI is the current high school band director at the Long Beach School District on Long Island. She has been a part of the district since 2016, previously teaching elementary general music, chorus, and fourth and fifth grade band. Prior, Leigh taught elementary general music and chorus in Queens and Manhattan, as well as music classes at the Theresa Academy for children and young adults with special needs. After graduating from LIHSA in 2010, Leigh went on to earn a Bachelor's of Music in Music Education and Flute Performance from SUNY Fredonia, and a Master's of Music and Music Education from Teachers College, Columbia University. In addition to her love of teaching, Leigh is an avid rock climber and has pursued her American Sign Language certification, mindfulness and yoga teacher training, and is currently working towards her literary and music braille transcribing certification. 
TERRENCE BRYCE SHELDON After graduating LIHSA and Elwood-John H. Glenn High School, Terrance went on to pursue his degree in musical Theater at the American Musical and Dramatic Academy in NYC. Since graduating AMDA, he has begun his professional career performing in shows at Engeman Theatre as well as directing and choreographing shows for Long Island Schools. Terrence would like to thank Michelle Vivona for instilling in him the love of dance and being such a wonderful and positive influence on him.  
ADIANNA VALENTINE is originally from New York, is a recent graduate from the University of North Carolina School of the Arts (UNCSA), with BFA in contemporary dance. Prior to her collegiate years, Adianna augmented her passion for dance by training at various dance studios in Manhattan, such as Broadway Dance Center and Peridance Capezio Center. In 2019, Adianna graduated from Long Island High School for the Arts, where she was awarded the George Farber Outstanding Student Award for merit and commitment. She furthered her studies by heading to North Carolina to train at UNCSA under the direction of Deans Susan Jaffe and Endalyn Outlaw, where she has performed many prestigious works and developed her experience in composition. Performance highlights from her time at UNCSA include works by José Limón, Trisha Brown, Darrell Grand Moultrie, Igal Perry, Mariana Oliviera, Ashley Lindsey, and Ming Lung-Yang. Most recently, Adianna studied in Moncalvo, Italy at Orsolina 28's intensive program, where she learned repertoire by Crystal Pite, Marco Goecke, and Jiří Kylián. After graduation, Adianna hopes to join a professional dance company, and share her excitement for dance through teaching. 
ELORA VON ROSCH is excited to be back performing at LIHSA! Recent credits include: Kinky Boots at North Shore Music Theatre and Theatre By The Sea, Michael Bublé Tour (Singer) Madison Square Garden, Josh Groban Harmony Tour (Singer), America's Got Talent (Season 16), Man of La Mancha (Hampton Theatre Company), Hunchback of Notre Dame (White Plains Performing Arts Center), Viking Ocean and Aida International Cruises (Performer), Goodspeed Opera House, The Landmark Theater and Waterville Opera House. TV/Film: "Law and Order SVU and Criminal Intent", "Sex and The City", The Kill Room, Ted, Kinsey, Here Comes the Boom. Graduate of the Boston Conservatory, Manhattan School Of Music (Pre-college Program) and British American Drama Academy. IG: @eloravrosch 
LINDSAY WHITEMAN (resident artist) grew up in Long Island, New York, and recently graduated from Berklee College of Music with a degree in songwriting and a minor in musical theatre writing. Lindsay frequently entertains audiences with her unique songs. She can be described as an acoustic indie pop artist with folk influence. Lindsay is passionate about the power of music. She uses her songs to paint her own personal experiences. Lindsay has played at City Winery in New York City, My Father's Place in Roslyn, the Barnum Ballroom in Island Park, and opened for Jordy at the Brighton Music Hall in Boston. She has opened for Loudon Wainwright in NYC (which led to him inviting her to play with him at the Stephen Talkhouse in Amagansett). She has also played at the Girl's Rising Music Festival in Glen Cove. 
SHAAKIRAH "YASMINA" is an artist from NY, currently studying drama at NYU Tisch. Before NYU, she was walking the LIHSA halls as a musical theatre major. She releases original music under her middle name YASMINA and also writes/directs original plays under the name Shaakirah Yasmina. She is very grateful for all of her teachers at LIHSA and is so excited to perform on the LIHSA stage once again! 
WHO'S WHO: FACULTY 
L'AURA BAGDZIUNAS attended the Long Island High School for the Arts as a dance major and then went on to earn her BFA in dance from Marymount Manhattan College. She then studied acting at the historic HB Studio in NYC. She has performed in works by Twyla Tharp, Larry Keigwin, Mark Morris, Pascal Rioult, Cherice Barton, Jeff Shade and numerous others. She was a member of the Hamptons HITFest Theater Company as well as ShakespeArts where she performed in productions such as The Tempest and 12th(ish) Night. Workshops and Readings include Revival (National Dance Institue, dir Christopher d'Amboise), Eco (Guild Hall, dir Jenna Mate). Other credits include a production of Our Town at the Long Wharf Theatre (dir Gordon Edelstein). She was a member of Yellow Brick Road Theatrical INC, Mad Cap Dance Company, Peconic Ballet Theatre Company. Currently She teaches in the dance department at LIHSA and allover Long Island.  
CHRIS BRICK is a graduate of Pace University's B.F.A in Musical Theater where he minored in Dance. Chris grew up on Long Island and has been performing from an early age. Off-Broadway credits include Ensemble in Chautauqua! (The Public Theater) and originating the role of Anthony in Judy & Me (St. Luke's Theater). National tours include Jojo in Seussical directed by Tony-nominee Marcia Milgrom Dodge. Some regional credits include Barnaby in Hello, Dolly! (Maltz Jupiter Theater) starring television and Broadway notables Vicki Lewis and Gary Beach, Robertson Ay in Mary Poppins (Kansas City Starlight) and Freddie in The Will Rogers Follies (Gateway Playhouse). Workshops and Readings include Frederick in Admissions, Nibs in Darling and George McFly in a musical adaptation of Back to the Future. Other credits include Chip in the 25th Annual Putnam County Spelling Bee, Emcee in Cabaret, Arpad in She Loves Me and Alan in Bare. Chris has choreographed productions of Cats, In the Heights, Hairspray, You're A Good Man Charlie Brown, The Wild Party and Little Shop of Horrors. He has taught numerous dance workshops and masterclasses over the past 10 years. Chris is a member of Actors Equity Association. 
KIMBERLY LARKIN holds an M.A. in Vocal Performance with a concentration in Musical Theatre from New York University and a B.A. in Music Education from the Aaron Copland School of Music at Queens College, where she studied Voice and Piano and minored in Drama/Theatre. Kim's recent NYC theatre credits include: Wendy in The G69 Triple X-treme Oscillator (Finalist in the Riant Theatre Strawberry Festival, NYC), Archon in the new musical Float (at the Dream Up Festival/Theater for the New City), Enid in F.F. of America (at the Riant Theatre Strawberry Festival), Miss Bunny in the new musical Molly Bloom-Lately (at the New York Children's Theatre Festival), Claire Simmonds in Bare: A Pop Opera at The York Theatre and Eurydice in Antigone with The Storm Theatre Company. Kim performed the role of Sarah Lincoln in the off-Broadway musical Honestly Abe at the Actor's Temple Theatre in NYC. 
FRANCIS LEES is LIHSA's longest-serving staff member, as this is Francis' 35th year here. Francis earned a B.A. in Music from Queens College, a performance degree from The Julliard School of Music, and an M.S. from St. John's University. Regionally, he has musically directed Broadway musicals such as West Side Story, Godspell, The Lightning Thief, and Anything Goes. Additionally, he has performed with Cabaret groups and solo featured performers at Don't Tell Mama, 54 Below, and The Cinema Arts Center. Most nights Francis can be found doing what he loves—playing. As a pianist, Francis has performed with various bands and ensembles in many locales—from local pubs to Carnegie Hall. Francis typically spends 200 nights a year performing. An in-demand vocal accompanist, with perfect pitch, he boasts a large repertoire of music from the Great American Songbook and Broadway music. His keyboard knowledge, strong technical skill, affable personality, and warm disposition make him a favorite with his fellow musicians. It is noteworthy to mention that Mr. Lees is the son of Francis Lees Sr., who has been an Economics professor at St John's University, and Fordham University. As the Chairman of the department for many years, Francis senior bestowed an avid interest in Economics, fostered in many thought-provoking conversations over the years. 
JERRY NOBILE has been a musician, teacher, and audio technician for over twenty-five years. Having a musical background and experience as a disc jockey, has helped Jerry to intuitively understand the needs of various performance contexts. Jerry has experience with both analog and digital mixing consoles that includes: Mackie, Allen and Heath and PreSonus. He uses both passive and active speakers such as: JBL, Electro-Voice, and QSC. Jerry chooses to use a variety of microphones from industry standard choices to specialized microphones. He has run sound in several settings from theaters to outdoor festivals and mobile sound. Through pre-production elements such as creating sound tracks and music editing, Jerry creates sonic environments to enhance and elevate the visual counterpart to the projects he works on using production techniques and state of the art software. As a drummer/percussionist, Jerry started performing professionally at age 16.  He has performed at various venues and with numerous artists. He has taught and mentored hundreds of students. Jerry is currently the owner of L & S Entertainment, Inc. and the band leader of Moonstruck, which has been performing at concerts, weddings, corporate events, and other social gatherings for the past 30 years. 
ALEX VIETHEER studied Jazz/Commercial Music and Audio Engineering at Five Towns College. He graduated with honors and received the departmental award for his major. This education helped Alex acquire the skills, knowledge, and experience to write, arrange, perform, and record music. This versatility has helped him become marketable in the competitive music industry. Alex also received a master's degree in jazz guitar performance from Five Towns College and an advanced certificate in music education from Brooklyn College. He was showcased at the 2018 Jazz Education Network convention in Dallas, TX performing in the jazz guitar ensemble. After teaching music production at The Academy for Language and Technology, Alex was invited to join the LIHSA team in the Sonic Arts Department. When he is not teaching at LIHSA, Alex performs around Long Island and Manhattan, instructs private music lessons, and produces music. He is also an Adobe Certified Professional in graphic and video design. It is Alex's goal to draw upon all of his experience in the industry to create engaging lessons that focus on real-world applications to provide students an opportunity to practice the skills needed to be marketable in their future industries.