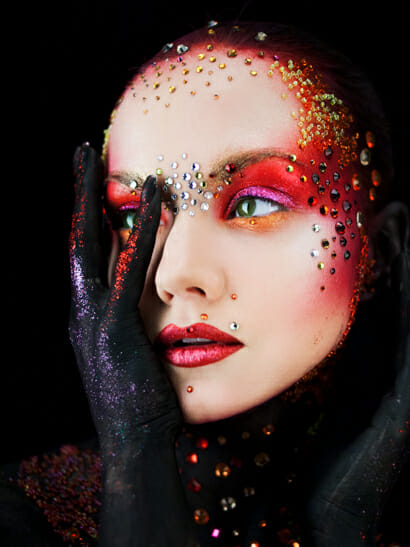 Is Special Effects Makeup a Good Career?
Often referred to as SFX makeup artists, special effects makeup artists play one of the most integral roles in movies, television, fashion shows and theatre. From creating an authentic looking bruise, cut or laceration to morphing an actor into an alien, the special effects makeup artist transforms vision to reality.
Role of the Special Effects Makeup Artist
The special effects makeup artist has many responsibilities, all of which allows them to tap into their creative side, making this one of the most  unique career opportunities available. The special effects makeup artist is tasked with using prosthetics and cosmetics to develop specific characters and scenarios. Since the actor or actress is immersing themselves into a different character, the special effects makeup artist is helping to enhance their performance. Emmy-winning Special Effects Makeup Artist Sean Sansom notes, "Sometimes, actors say they don't even really have to act in the makeup because it kind of does the performance for them…" The special effects makeup artist is an invaluable position, bringing ethereal visions to life.
Becoming a Special Effects Makeup Artist
Although the film industry is becoming CGI dominated, there will always be a hiring surge for makeup artists. CGI typically isn't used to show a character aging or display wounds, rather, that's where the special effects makeup artist steps in. To break into the field, it's important to attend some classes that are specific to special effects makeup. Starting at a young age also helps students become more confident and enhance their technical skills early on.
Building a Portfolio
Building a portfolio of work will be an absolute game-changer, especially as more and more companies will want to view your work online. Whether it's providing some movies you've worked on or photos you can post online, this will be crucial when getting hired.
Working Your Way Up the Career Ladder
It may seem like all the jobs are in Hollywood but as you're starting off, consider freelance opportunities to build credibility. Theme parks, cruise ships, and medical schools looking for realistic looking wounds that students can practice on are just a few jobs to consider when starting off. As you work your way up, you can become an assistant and soon enough you'll become a lead.
Skills Needed to Become a Special Effects Makeup Artist
Special effects makeup artists continue to improve their skills throughout their career. For those of you just getting started, take a look below to explore some skills that will help you get ahead.
Creativity and adaptability

– The special effects makeup artist will need to understand the script and characters in order to  visualize what special effects they'll be applying. Quickly adapting to the needs of the job and being creative are absolutely key.

Patience

– It can take several hours to complete a look so it's important that the special effects makeup artist is patient. Additionally, the removal of makeup will require a steady hand so the actor's skin is not damaged from the prosthetic makeup.

Clear communication

– The special effects makeup artist will be working with a large team ranging from producers to set designers to stage managers so they'll need to clearly communicate their vision to the entire team. 

Work under tight deadlines

– Things are constantly changing which means everyone should be able to work under tight deadlines. It's also important to be prepared for priorities to shift and to sometimes work late hours.
The opportunities are truly endless when it comes to special effects makeup.
About Our Scars, Aging, and Makeup Applications Course
High school students can kick start their special effects makeup career through our Scars, Aging and Makeup Applications class. Students will learn simple and effective appearance-altering makeup techniques as well as how products can be manipulated to achieve special effects.
Sign up for our Newsletter!